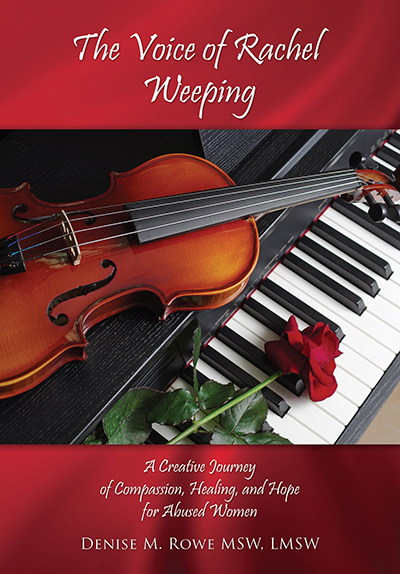 Denise Rowe's new book, The Voice of Rachel Weeping, offers abused women a view of their pain from an original and unique perspective. Written with descriptive detail and symbolism aimed at capturing the heart, the author weaves a tapestry of the creative arts with expository writing. Through the use of metaphor, Rowe paints a portrait of God with the compassionate heart of a Holy Healer and as a passionate Poet seeking to woo and win the reader into healing and wholeness through artistic and creative expression of "the Word of Life."
Many books addressing the road to recovery from a variety of wounds are written in an analytical and conceptual way that provides good information for the mind but fails to capture the emotional self that needs to receive the healing. The Voice of Rachel Weeping alternates between: conceptual healing principles for important cognitive understanding, testimony of personal transparency in pain, and imagery that both captures the hurting heart and takes the reader by the hand to the beauty of healing truth that can set her free.
In addition to in-depth teaching from both clinical and Scriptural perspectives, parable and poetry are accompanied by interpretive reflection and application, ultimately making the creative pieces more effective and personal. Written in a friendly, warm, supportive style, readers will find the inspiration, confidence, and courage to begin rebuilding their lives as they connect to a loving Creator―in refreshingly new ways―through metaphor, rhyme, story, and song.
Denise Rowe is a clinical social worker with a Masters in Social Work from Michigan State University. She has worked with hurting and abused women for over twenty years, and her book is available for purchase through Xulon Press.